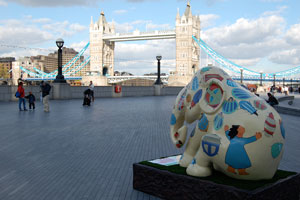 The Elephant Parade took place in London during June and July 2010. It was organised by the charity Elephant Family in order to raise awareness of the plight of the Asian Elephant and money to establish safe 'corridors' for the elephants.
My elephant was one of 250 which were commissioned and placed around the city.
It took five to six weeks to paint "Marjorie', who stood proudly by Tower Bridge for the summer. I am pleased to say "Marjorie' was auctioned off with all the elephants and raised over £14,000 towards the charity.
© All work is copyright the artist, no reproduction without permission.
An
Eye Gallery
site